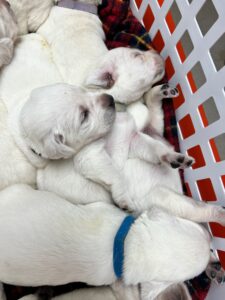 We have three female white lab puppy opportunities remaining in Lexi and Luke's litter. Their puppies have already received ENS and we have begun desensitization to sounds and visual stimuli. Already, you can see the distinct advantage these white lab puppies have through early care and nurturing. Lexi is a wonderful mother and her puppies are healthy and thriving!
We have both 7 week and 9 week programs. The extended program includes 2 weeks of advanced puppy training with our expert trainers handling each puppy over 6 hours per day. The 9 week program also includes an assortment of products you'll need to support your puppy and continue to reinforce training at home.
These are very special puppies and limited opportunities remain. If you're interested in our program, please email Sandy@mylabpuppies.com to inquire and place a deposit.