UPDATE: Tesla is SOLD
You can view our current available puppies on our litters page: Litter Availability
Tesla is 9 weeks old. She is completing our training program and she is a super star pup! Her aptitude results indicate she has a great foundation to become an active family/individual pet, field hunting, agility or service dog.
Tesla is a White Lab Puppy for Sale from Porsche & Chief's Litter
Tesla was born right here in Gilbert, AZ at our facility. All of the puppies from this litter, including Tesla, received Early Neurological Stimulation (ENS) which has been shown in studies to increase brain mass by 5% and creates a healthier heart and stronger dog that is more resistant to disease.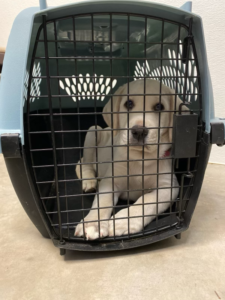 Tesla has been desensitized for sight and sound stimulations in addition to completing our two week extended training program. This white lab puppy for sale has been exposed to over 15 commands and is ready to continue her adventure in a new home.
Tesla has responded wonderfully to training. She is crate trained, leash trained, doggy door trained, she goes up and down steps, traverses different surfaces without hesitation and more.
Email Sandy@MyLabPuppies.com for more information and to schedule a visit.