While there are many choices for a Labrador breeder in Arizona, My Lab Puppies stands apart from the rest with a focus on developing puppies to the highest standards in preparation for public service.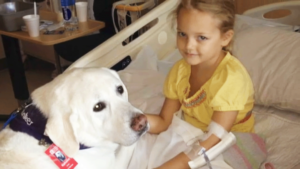 When I saw the difference the therapy dogs made for my granddaughter when she was in Phoenix Children's hospital, I knew that was something I wanted to provide for others. Our focus with every litter is to breed puppies that will qualify for service work. Not every puppy can meet the rigors of life as a service dog and that is why we aim to give our puppies every advantage we possibly can.
This begins with our unique puppy program that starts even before the puppy is born. Our dams and sires come from a line of service dogs and have a reliable pedigree that has bred many dogs suitable for work. We ensure all of our dogs receive proper nutrition and prenatal care. When puppies are born we engage them in Early Neurological Stimulation (ENS) and age appropriate training from their first week of life through our 9 week training program. This is an extremely hands on and intensive process and we believe we owe it to our puppies and their future families. We encourage our families to be a part of this process as well, helping to desensitize and nurture our puppies.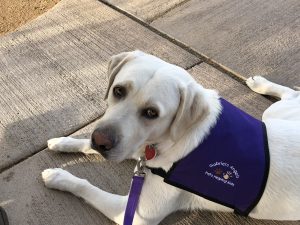 Our dogs actively work in the field as volunteers for Gabriel's Angels, and all of our puppies socialize with and learn from our adult therapy dogs. Socialization extends beyond their interaction with other puppies and our adult dogs to all of the families that come and interact with the puppies as well as all our expert trainers and staff.
Are you looking for a Labrador Breeder in Arizona?
We encourage you to do your research and choose a responsible Labrador breeder in Arizona. The American Kennel Club proudly supports dedicated and responsible breeders. They are an excellent initial resource for information and My Lab Puppies is an AKC registered Labrador breeder.
After identifying a potential Labrador breeder in Arizona, the next step should be to meet with them and better understand their program. We encourage our families to come and meet with us and with some of our breeding parents. We believe the best way for you to understand our program is to come and meet our dogs and tour our facility. We always enjoy answering questions and helping to guide you to the puppy that is the perfect fit for your needs whether that is a service dog or a personal family pet.